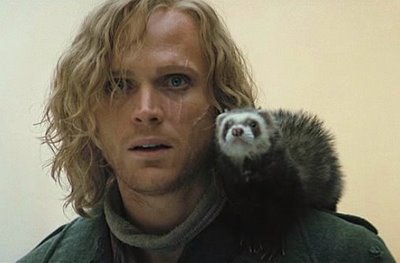 "She'll tell it to you. Just go
to her and...
and tell her I've had to go away. Tell her I'm going to find out if the story is true."
- Cornelia Funke, Inkspell
Dustfinger is quite possibly my favorite literary character of all time. Cornelia Funke, who has woven a dark and complex young adult world with the Inkheart trilogy, pits Dustfinger at the heart of most tragedy and turmoil that befalls his world.
At best, Dustfinger is a self-loyal, cunning, talented yet selfish man. Layer in some of the most complex character relationships I've ever seen including a married woman he falls in love with, his remarried wife whom he never thought he'd see again, his bratty apprentice, the man who alternates between destroying and saving his life, his own author, and, of course, the series' main character Meggie.
Among those relationships, that between Dustfinger and his apprentice Farid is one of the most beautiful I've seen in YA literature. In fact, I've never seen a relationship with the same dynamic--it isn't friends, bros, romance, or father-son, it simply is what it is.
Bonus points: even though the movie was awful, Paul Bettany portrayed him perfectly.